Easier, Simpler, Faster: Systems Strategy for Lean IT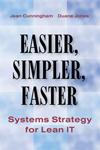 Opis książki
For your lean transformation to be successful, your IT system must support it!
To enhance and sustain its lean journey, a company must implement information systems that fully support and enhance the lean initiative.
In Easier, Simpler, Faster: Systems Strategy for Lean IT, Jean Cunningham and Duane Jones introduce a case study of an actual lean implementation involving an IT system of a mid-size manufacturer, highlighting the IT issues that they faced during their lean transformation.
This compelling book fully explains:
* What your company should do in regard to information systems as it implements lean.
* The changes that will be required in the information system to make it a partner with, rather than a barrier to, your company becoming a lean manufacturer and ultimately a lean enterprise.
* The opportunities that will arise for the information systems team to eliminate waste and apply lean principles in its own operations.

This book will provide you with a broader vision as well as a path to what a lean system environment will look like for your company
.
Informacje dodatkowe
| | |
| --- | --- |
| Autorzy | Jean Cunningham, Duane Jones |
| Tytuł oryginału | Easier, Simpler, Faster: Systems Strategy for Lean IT |
| Wydawnictwo | Productivity Press |
| ISBN | 978-1-56327-353-7 |
| Ilość stron | 178 |
| Wymiary | |
| Oprawa | Twarda |
Recenzje
"This book deserves a detailed read and discussion within any organization planning a lean transformation. Jean and Duane have accurately and sensitively captured their struggles, frustrations, and victories around the previously submerged and invisible IT portion of the lean iceberg".
"Jones and Cunningham's first-hand experience with lean IS Transformation is distilled into a pragmatic set of guidelines that will fortify your roadmap for remarkable change".
"For too long, IT systems have indirectly functioned as a barrier to lean initiatives -- This book breaks new ground because the authors fully illustrate just how IT can significantly hasten waste reduction".