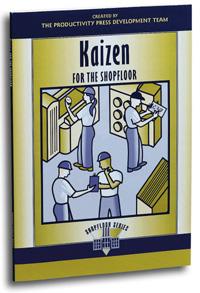 Opis książki
The philosophy of kaizen, which simply means continuous improvement, is the starting place for all lean production improvements. Kaizen events are opportunities to make focused changes in the workplace. Kaizen for the Shopfloor takes you through the critical steps in conducting a very effective kaizen event - one that is well planned, well implemented, and well documented. As the newest addition to the Shingo Prize Winning Shopfloor Series, Kaizen for the Shopfloor distills the complexities of jumpstarting lean processes into an easily accessible format for the frontline employees who make lean possible.
This book: * Provides learning strategies and overviews in each chapter * Details the planning and preparation stages for kaizen events * Maps out the implementation process * Offers tips on how to present your results to company management
Progressive shopfloor improvement techniques are imperative for manufacturers who want to stay competitive and to achieve world class excellence. And it's the comprehensive education of all shopfloor workers that ensures full participation and success when implementing new programs. The Shopfloor Series books make practical information accessible to everyone by presenting major concepts and tools in simple, clear language and at a reading level that has been adjusted for operators by skilled instructional designers. One main idea is presented every two to four pages so that the book can be picked up and put down easily. Each chapter begins with an overview and ends with a summary section. Helpful illustrations are used throughout.
Informacje dodatkowe
| | |
| --- | --- |
| Autorzy | Productivity Press Development Team |
| Tytuł oryginału | Kaizen for the Shopfloor |
| Wydawnictwo | Productivity Press |
| ISBN | 978-1-56327-272-1 |
| Ilość stron | 103 |
| Wymiary | 180x255 [mm] |
| Oprawa | Miękka |