5S for the Office: Organizing the Workplace to Eliminate Waste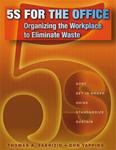 Opis książki
* Provides detailed step-by-step implementation on how to apply 5S to your office activities. * Includes forms, worksheets, and photos that will allow you to "see" the value of 5S, thereby increasing sustained support of the implementation. The accompanying CD contains blank versions of many of the worksheets that appear throughout the book. The worksheets on the CD, however, are interactive - the user can electronically enter and save information right on the particular form. * Can be used as a training and implementation manual.
Although office and administrative activities are usually 60 percent of the production costs in most manufacturing organizations, these areas often get excluded during lean initiatives. To achieve lean, office activities must fully support shop floor manufacturing operations to eliminate waste. The adoption of 5S throughout all office and administrative functions is the first step to increase efficiency.
In 5S for the Office: Organizing the Workplace to Eliminate Waste, Tom Fabrizio and Don Tapping bring the concepts of the 5S System -- effective tools for the elimination of waste on the shop floor -- into the office environment. The activities at the heart of 5S for the Office (organizing, ordering, cleaning, standardizing, and sustaining all of these) are completely logical. They are the basic rules for managing any effective workplace. However, it is the systematic method with which the 5S system approaches these activities that makes it unique.
This book is a blueprint for building a Lean foundation for your office
Readers of this book can immediately apply the concepts of 5S to their office and administrative activities, resulting in the elimination of waste, reduced production costs, and increased profits.
Pomimo, że koszty administracyjne i biurowe to zwykle 60% kosztów procesu produkcyjnego w większości organizacji produkcyjnych, to są one wykluczane z aktywności lean. Aby jednak osiągnąć lean w całej organizacji, działania administracyjne muszą być pełnym wsparciem dla produkcji. Wdrożenie 5s we wszystkich obszarach administracyjnych jest pierwszym krokiem dla zwiększenia tego wsparcie i uzyskania efektywności we wszystkich obszarach przedsiębiorstwa.
W książce 5S for the Office: Organizing the Workplace to Eliminate Waste, Tom Fabrizio i Don Tapping przedstawiają koncepcję 5s – efektywnego narzędzia eliminacji strat na stanowisku pracy – w otoczeniu biurowym. Działania w ramach 5S w Administracji (selekcja, systematyka, sprzątanie, standaryzacja, samodyscyplina) przedstawione są w bardzo logiczny sposób. Pokazano podstawowe zasady dla efektywnego zarządzania przestrzenią biurową.
Ta książka jest filarem do zbudowania podstaw lean w twojej administracji i:
* Zapewnia opis wdrożenia 5s w administracji krok po kroku
* Prezentuje formularze, instrukcje stanowiskowe, zdjęcia które pozwolą zobaczyć efekty 5s. W ten sposób jest dużym wsparciem przy samodzielnej implementacji. Towarzysząca płyta CD zawiera czyste formularze, które opisane są w książce
Czytelnik tej książki od ręki może wdrożyć 5s w swoim biurze i działaniach administracyjnych, w efekcie eliminując straty.
Informacje dodatkowe
| | |
| --- | --- |
| Autorzy | Thomas Fabrizio; Don Tapping |
| Tytuł oryginału | 5S for the Office: Organizing the Workplace to Eliminate Waste |
| Wydawnictwo | Productivity Press |
| ISBN | 978-1-56327-318-6 |
| Ilość stron | 192 |
| Wymiary | 220x280 [mm] |
| Oprawa | Miękka |